World of Volleyball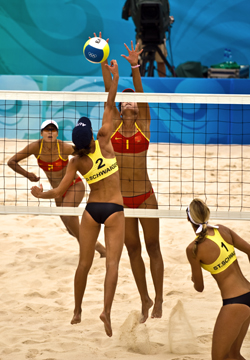 Volleyball is one of the most active team sports, which is widespread throughout the world. As one of two forms: classic and beach volleyball. In beach volleyball teams consist of two people, played on sand. It is divided into of games, each game is 21 points. Classic volleyball is played in halls or courts courses. There are two teams and each consists of 14 players, comes into play six players, 6 are reserves.
One player is chosen to captain team. Each team must have one coach, one assistant coach and doctor. The game begins with the execution of the initial shock - serve. Team which collects 25 points with an advantage of two points wins game. Only in the fifth game, to be collected 15 points with an advantage of two points. If the score is 24 to 24 or 14 to 14 points, it continues to give the advantage of 2 points. Winner of the game is the team that won the first three games of five. After each game the teams have to change their playing field.
The most famous events related to volleyball are the Olympics, World Volleyball League and World Cup international Volleyball Federation. This sport, however, is not only interesting for watching, but also for sports betting. In volleyball much more rarely occur surprises in betting because there is no way a team with fully protected game to hold equal playing one of favorites. This makes the profit margins quite large for bettors who follow the current status of the teams and any new around them. When you decide to bet on volleyball, should explore how the things are - who are the best teams, in what form are the players, are there injured players, how many wins and how many losses a team has etc. Such information can be found in many places and it's will certainly be very useful to bet on the winning team.
If yo want to win from football betting, do not hesitate to buy our soccer picks! You can rely on our professional tipsters' knowledge and high results.
Replacement & Guarantee: For every sport prediction which is not WON or WON 1/2 your account will be charged with 1 prediction as replacement.